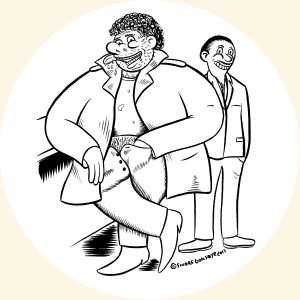 Meet Sex Judas (Sex to his mother).
A sexual vigilante and underground musical entrepreneur working in tandem with his trusted sidekick Ricky since the dawn of time (or the death of Jesus). Myth has it that after the infamous "kiss", Judas was damned to live on earth for eternity. He decided to make the best of it and delved head first into his true passion, music. Known as a motherfucker on the "Uggav"  since his early teens, he emerged in the underground sounds of Judea and never looked back. Judas & Ricky state they are on a mission to play music that reflects the real life, in all it's horny, absurd, joyous and yes sometimes evil ways…with emphasis on the bass of course!
So what you now hold in your hands is the glorious first vinyl offering from Sex Judas and Ricky "The Sex according to Judas" telling the story as it is, blending the old school sounds of Chicago with a modern day longing for bass and ass; with a steaming sex toy edit by Tim from Paris to go.
MKG013 – Sex Judas feat Ricky – The Sex According To Judas EP
A1 Sex Judas Theme
B1 Everything Changes
B2 Everything Changes (Tim Paris 'Mind Power' Edit)
All music sexually healed by Sex Judas & Ricky. Editing & additional production by Tim Paris (engineered by Bruno).
Out vinyl & digital on July 8th 2011
LISTEN & BUY : Sex Judas feat Ricky – The Sex According To Judas EP (incl Tim Paris edit)
DJS & MEDIA
killer release, just the right side of camp/happy for me! tim's edit is the one ill be playing! Matt Walsh - This is great ,and quick too ,loving all themixes great stuff in da box for sure
 Bozzwell (Hiem ) - supa release tim, very c&s styleeeee … will hammer this for sure … peace & love jef k - sex judas theme is mental! love it. tim's edit of everything changes is superb as well Alex Egan - Loving this. Nice and sleazy with lots of lovely space in the tracks allez-allez - everything changes is killer track love it anthony collins - great release! freaky Le Loup - Damn, that's diiiiiirty. Talk about bass! Amazing philip sherburne (Beatportal / Resident Advisor) - Full Support!!! Kolombo - love this, great EP! Riotous Rockers - nice one !!!!!!!! Tsugi Mag - You really fucked this release in the ass. good job, keep it up Tim Xavier - tip top original stuff love the judas theme vibe Frank Roger - actually all the package is huge. especially sex judas theme! porn house Darabi - This is excellent … well into all 3 tracks, but Tim Paris gives the proceedings that extra punch that should especially ignite the boogie zone Q Burns Abstract Message - encore un truc de drogué… ou de sportif Alexkid - Both mixes of everything changes for me!!!!! Doc Martin - Already had them from Tim Paris. All tracks from e, solid strong release, though Tim Paris' version is the bomb here Cosmo Vitelli - loving all 3 trax. kiler release Mugwump - nice sleazy vibes…love it.. Charles Webster - like it, funky, supporting Jerry Bouthier - Tim Paris is very cool edit System Of Survival - filthy Joakim - Sex Judas is the one for me.Twisted funk with an edge. Cool! Pilooski - I LOVE "Sex Judas Theme". The breakdown is awesome Nathan Gregory Wilkins - Interesting..I need to live with it luke solomon - i like the tim paris rmx best, its truly dope! the rest of the tracks leave me cold to be honest. 5 stars for tim paris rmx! Morpheus - groovy!! Fra Soler (Nitsa) - Nice funky EP! Arnaud Le Texier - nice EP – will try out Orde Meikle - Wicked originals with on top of that a TimParis (who's probably the hottest remixer on the scene actually) edit …5 stars and straight to the top 10! Remain - review to follow De:Bug Mag - Sexy fucked up dance music :::ohhh yess i loove it laurent garnier - huge release! lovin all the tunes! Fine Cut Bodies - hilarious and amazing. remix is dope too Butane - marketing music ON FIRE Clement Meyer - review in our next issue Groove Mag - LOVE THE LABEL MORE AND MORE ! MERCI TIM ! Jennifer Cardini - aaah, soothing my soul! Ben Mono – Played by Magda, Richie Hawtin, Dj T, Lee Foss