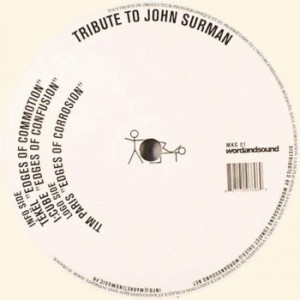 At first glance it might seem to be an odd move by TIM PARIS to call the first release on his new imprint Marketing Music " a tribute to John Surman", but you just shouldn't take this too litteraly: there are no screeching yowling saxophon excursions here – it's rather the atmospherics, the mood and the will to search for new exciting sounds and rhythms that are reference to one of UK's leading saxmen and major asset to the famous ECM label catalogue. TIM PARIS mix demonstrates this principal to perfection with serene interwoven melodies as well as fresh sounds bytes and mind-altering technical gadgetry strung together by a loose tech-boogie beat. TEKEL's contribution is the most straight forward: a busy tech-shaker with a scraping bassline and synth lines striking like bolts from the blue. I:CUBE's take is very delicate with a impromptu grassroots tribal riddim made of handclaps and few percussion paired with layers of intertwined sweet, childlike melodies that are close to stumble over each other and getting drained in echo.expect to be surprised and step into tomorrow!
MKG001 : Various – A Tribute To John Surman

01 – Tekel – Edge Of Commotion
02 – I:Cube – Edge Of Confusion
03 – Tim Paris- Edge Of Corrosion
BUY DIGITAL

LISTEN & BUY : Tim Paris, Tekel & I:Cube – A Tribute To John Surman – full tracks listening
DJS FEEDBACKS
DAVID DURIEZ: "WOW! Killer! Tekel rocks! Excellent." DIRT CREW: "#7 of Top Ten" DJ KAROTTE: "A1 rockt minimal, 8 von 10 points" JAMES PRIESTLEY: "#9 of Charts November 2005" RALPH LAWSON / 2020 Vision: "This is incredible! 5/5" SASSE (MOODMUSIC): "Great start! Will be big for sure." Played by MANDY, Michael Mayer.